The Rössing Foundation was established in 1978 with a directive to facilitate and implement various projects across the regions of Namibia. Making a fundamental impact on communities with projects aimed at furthering the education of people within those communities, as well as encouraging people to create their own opportunities by offering them the chance to empower themselves with a decent education.
They furthermore address the issues of general living standards and conditions facing the every day Namibian, by making it a fundamental part of their cause to actively promote projects aimed at advancing the living standards of the people in Namibia holistically. Throughout the years that passed, sight of the main purpose was never lost, with an array of success stories littering the local press year upon year.
In line with that, the Rössing Foundation, constantly aims at expanding on these ideals, and actively strives for improvement of the planned execution of these projects. That is why in 2015 it was decided that to effectively reach areas too far removed from any of the above mentioned centers, a new means of reaching out would have to be found, hence, The Rössing Foundation Mobile Laboratory, was born.
Hollard Life, a firm believer in the value of sustainable projects aimed at bettering the lives of all Namibian people, joined forces with the Rössing Foundation, by sponsoring N$70,000.00 into the Mobile Laboratory initiative. The van is also insured by Hollard, ensuring that in the case of an unforeseen event, the children that rely on the knowledge gained through its visits, can rest assured that it will be making its way back to them, in no time at all!
From January 2017 until present, a number of 10 schools, 159 teacher and most importantly 4375 learners were supported through the Mobile Outreach Program. Support modes such as "Face-to-Face", where Education Officers conduct lessons directly to learners, "Investigations and Projects" aimed at engaging learners in the application of concepts resembling real life situations and "Scientific Experiments" where learners have the opportunity to create their own knowledge through observations and inquiry as they carry out experiments hands-on.
It is through initiatives like these that the most impact can be made to communities and the children of those communities, through insightful and innovative ideas that we ensure sustainability and positive change. Hollard will continue to work towards making an impact in the lives of the people who need it the most, that is after all, the Hollard way.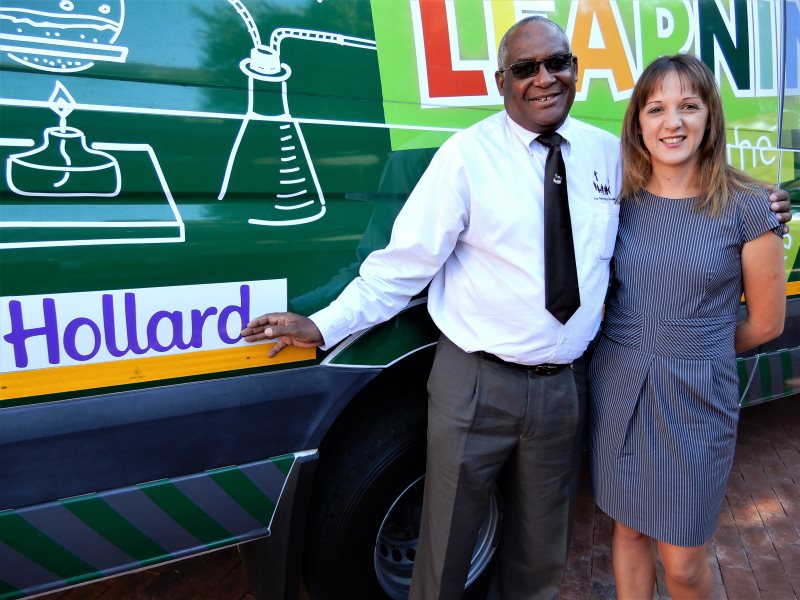 Henriette Crouse, Brand & Marketing Manager, Hollard and Mr Job Tjiho, Executive Director, Rössing Foundation