The town of Bethanie has many stories to tell, but the story of the Career Assessment and Mentorship Programme (CAMP) is causing a stir across Namibia. This wonderful initiative was founded by Sidney Boois who grew up and was schooled in the little town, thus understanding the daily issues the children faced. This is a prime example of shared success, of the differences we can make and the hope we can generate and give back to the communities we originate from.

Camp Campus as it is formally known has many facets, but primarily focuses on empowering the children of that community through higher education as well as offering career guidance through early discovery, development and nurturing interventions of Grade 7 – 12 high school students from marginalized communities, by preparing them for university. Apart from the academic side of CAMP, they also offer various life skills projects such as gardening, tourism and cultural heritage projects, leadership courses for educators as well as youth and community training and development programs.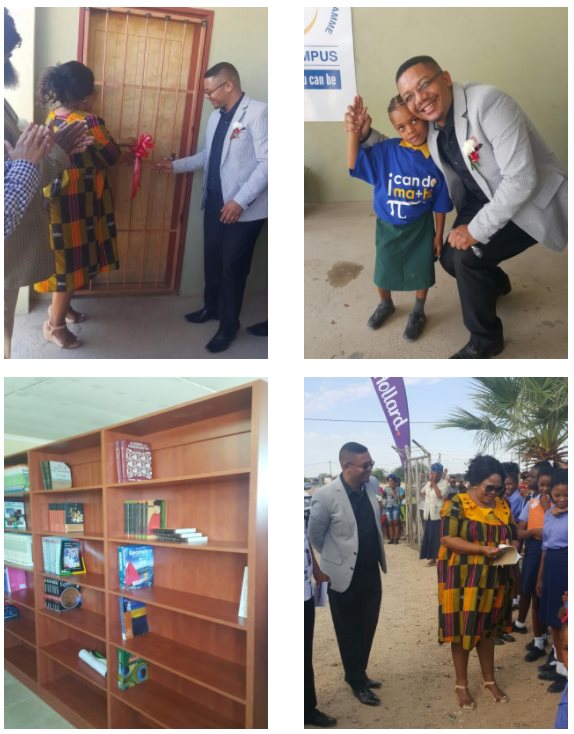 Hollard Namibia joined forces with CAMP, understanding the importance and relevance of a project of this kind, a truly innovative way to realistically make a difference to not only the children attending the project, but also making a lasting sustainable difference to the lives and livelihoods of the people in the community of Bethanie as well.

Recently Hollard donated custom made Namibian office furniture to the value of N$63,575.00, all of which was designed by a Namibian company called KAMNAP in such a way that the children of CAMP would have to figure out how to assemble each piece, making it a rather nice challenge as well. Apart from the sponsored furniture, Hollard also donated book shelves, computer stands, computer boxes and a fully equipped kitchenette, all to the value of N$61,300.00.

All of this was done to enable CAMP in achieving their goal, which is to develop support structures for secondary school learners through career assessment and mapping. Coaching and mentoring, job shadowing and contributions towards capacity building across priority economic sectors, all in line with NDP IV and Vision 2030.

The Minister of Education, Arts and Culture, Hon. Katrina Hanse-Himarwa visited the school on Saturday 8, April 2017, to see for herself the impact that this initiative has made to the children of that community. The fact that Government acknowledges a project such as this gives us an enormous sense of pride for being part of this wonderful campaign, and we will continue our efforts in playing a pivotal role in support of CAMP, and the children in Bethanie.